BACKGROUND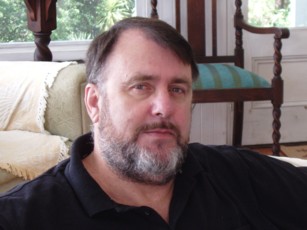 Background Profile – Adrian Gilbert

Adrian Gilbert is an Australian artist/painter living and working in Leura – a town in the Blue Mountains - noted for its village atmosphere and beautiful gardens – just west of Sydney, Australia.

The City of Blue Mountains (population approx 70,000) is set within Blue Mountains National Park – a magnificent World Heritage area of canyons and bushland wilderness. The city itself is comprised of individual towns dotted along the mountain ridges and generally separated by bushland. A railway and two main roads connect these towns with Sydney and the western regions of New South Wales and Australia.

Many artists of all persuasions have escaped the hustle and bustle of the big city for the mountains - thus making a strong arts community within an area noted for its tolerance of eccentricity. This has proved to be a sympathetic environment for Adrian Gilbert to establish a career and build a lifestyle complex of house, studio and well equipped workshop - all in a garden setting. The recent creation of a gallery attached to his studio now enables him to pursue his diverse artistic interests with greater independence – although he continues to exhibit elsewhere as well.

Adrian Gilbert's vocation now spans forty years. Primarily a studio painter who attends a regular life drawing group and occasionally sketches in the bush, his practice includes the preparation of supports and grounds for painting as well as the framing of finished work. From time to time, he also engages with a range of sculptural ideas which he began developing in the early '80s. When deadlines demand it, he focuses on special projects (thematic shows, portraits or other commissions). Most of his studio work revolves around analysis and experiments which cultivate the muse at the same time as saying something about art, the landscape, human form or life in general.

Visitors to the website ( www.adriangilbertart.com ) will note that Adrian Gilbert's artistic output is marked by both originality and diversity. This flows from diverse sources of inspiration and an open, analytical mind which tells him that no single approach or style can say everything he wants to say as an artist. Regular visitors to the studio/gallery are always impressed by both the refined and robust aesthetic sensitivities and the very high standards of technical expertise.



ADRIAN GILBERT

Born in Sydney 1945 – currently (2009) residing and working in Leura, Blue Mountains

Studies: South Australian School of Art 1966
National Art School (Randwick) 1968/69
East Sydney Technical College 1970/71

Teaching Experience: Head of Art & Design, Lithgow TAFE (1979-83)
Special classes in Life Drawing and Creative Play in own studios and with local art groups in Blue Mountains

General exhibitions:
Numerous mixed shows in Sydney, Blue Mountains & Central Coast venues including:
Clune Galleries, Barry Sterns, Woollahra Galleries, St Georges Terrace Gallery (Parramatta), Lithgow Pottery, Pointons (Wentworth Falls), Gallery 460 (Gosford), Bakehouse Gallery (Patonga), Gallery Oz (Katoomba), Lurline Galleries (Katoomba), Gallery Lane (Leura), Gallery 307 (Northbridge), Gateway Gallery (Leura), Nolan on Lovel Gallery (Katoomba)

Selected or invited to exhibit: Blake Prize for Religious Art 1983/84; Wyong Invitational Art Show 1993/94/95/96; Kedumba Gallery (Blue Mountains Grammar) 2006; Hills Grammar Art Prize 2005/06/08; Blake Exceptions, RB Gallery, Rushcutters' Bay, 2006; Berklouw Portrait Prize, Berrima District Art Society, 2006, 2008; BMAC LGA Show, Fairmont Resort, Leura, 2006; Art2Muse online gallery, 2007; BMAC Spectaculart 2007/08; BMAC SOPA Show 2007; BMAC Landscape to Mindscape, Parliament House, Sydney, 2008;

Joint Exhibitions:
Five artists - Lithgow Valley Pottery, 1979
Four artists - St Georges Terrace Gallery, 1983
Twelve previous prizewinners - Blackheath Annual Show, 1985
"Saratogans", Saratoga Gallery, 1990
Lithgow Pottery, 1994
Lurline Galleries, 1997 (Three artists - "Approaches to Mt Hay")
Nolan on Lovel Gallery, 2008/09

Solo Exhibitions:
Lithgow Pottery, 1982
Own Studios (Blackheath) 1985/86
Bakehouse Gallery (Patonga), 1992
Gosford Regional Art Centre, 1996
Gallery Lane (Leura), 2004 ("Lines of Enquiry")
Gallery 307 (Northbridge) 2004 ("Lines of Enquiry" extended)
Adrian Gilbert Art (own gallery) (Leura), 2007-2008-2009